We work with some big clients.
 But they didn't all start out that way, 
and neither did we.
2006
D3R is founded by Lynton Morgan in a downstairs bedroom somewhere on the edge of Chichester. A crucial early client is Mr & Mrs Smith.
2008
D3R has quadrupled in size to four people (three of whom still work here) and relocated to an upstairs office near the canal basin.
2009
Turnover doubles for the third year in a row as D3R lands a pair of major new clients, Dualit and Loaf. Both are still with us.
2010
D3R moves to its current location at the bottom of East Street, installs a pool table, and starts working with Monica Vinader. We're up to ten people.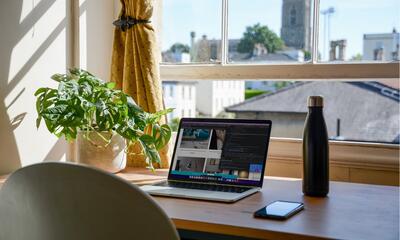 2013
We march on the capital. D3R opens its first London office in Farringdon. Our team swells to twenty, split across the two locations.
2015
D3R London outgrows its Farringdon base and heads to Soho. Our clients now include Aspinal, Fevertree, The Hideaways Club, and Astro (all still with us).
2017
A landmark year. Revenue soars and D3R London moves to its current home in Vauxhall. We're now working with Andrew Martin, Twickenham, and Vaughan.
2019
Everything is going suspiciously well. The D3R team has stabilised at around thirty. Recent additions to our client-list include Soho House and Farmison.
2020
We are still riding high when the pandemic hits. Our ability to improvise is tested to its limits, but we work hard to support our clients and find new ways of working.
2022
We emerge from the pandemic with our team and our client-list intact. Following two years of remote and hybrid working, D3R is a more adaptable and resilient company than ever before.
After 17 years, the D3R story is just getting started. Why not help us write the next chapter?
Get in touch